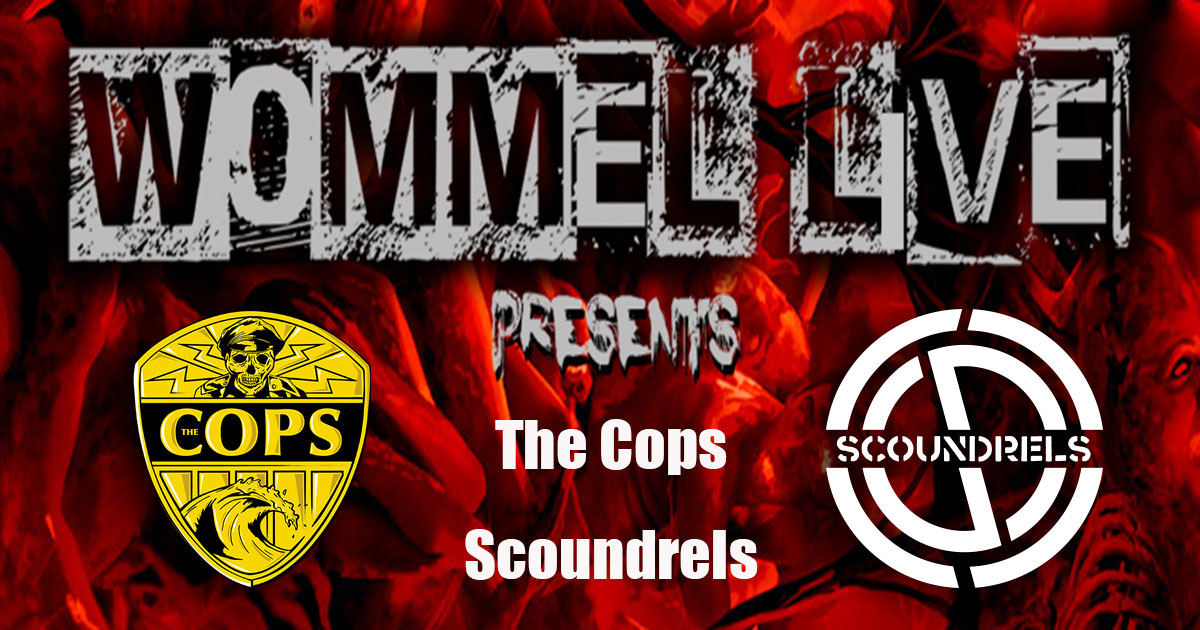 Wommel Live: Scoundrels en The Cops
Wommel Live presents:
THE COPS are a morally corrupt SURF trio determined to shut down your party. They have infiltrated the Dutch underground for decades in acts such as The Unborn, Otis, Beyond Lickin' and Angstgegner.
Their current Dick Dale worship will easily work anywhere from a punk show to a sixties party. Right before COVID-19 struck they released their first vinyl 7″ entitled CRIME WAVE via Black Death Records and did their first live shows.
Then the planet went in lockdown and The Cops recorded a second 7″, a split effort with De Mervo's called SPECIAL AGENT UTAH. It was released by Gram Records in the tail end of the pandemic.
Scoundrels: 'Oh No! Not Again!'? Oh YES!!! Following a 31-year(!) hiatus, South Dutch / Belgian punk legends Scoundrels return to the front with a huge bang… and with their brand new third LP! Like the case with so many releases, there's a lot one can say about the album. But maybe the most important thing is that the band's many fans – old and new alike – will not be disappointed, since 'Oh No! Not Again! definitely is not one of those 'lame reunion albums'. No sir, these songs don't sound like they were recorded by a bunch of veteran punk rockers who merely celebrate the so called "good old days". On the contrary! For their brand new full-length LP Scoundrels came up with 11 tracks that sound vibrant, fresh, energetic and very, very inspired. In fact, the Scoundrels have never sounded this accomplished and impressive!