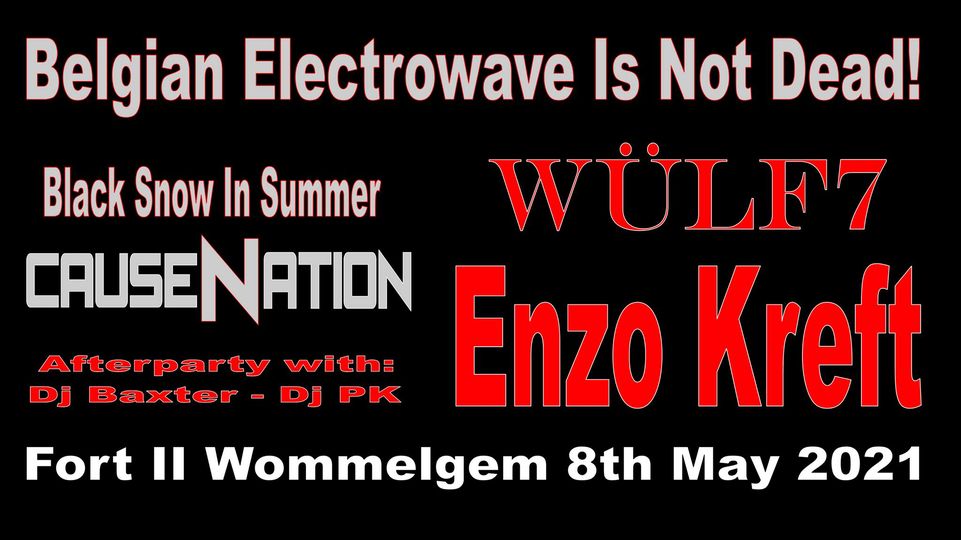 Belgian Electrowave Is Not Dead
Haplo Vain Presents: Belgian Electrowave Is Not Dead!
– Black Snow In Summer: playing songs from their first album "Shadows At Night" which was highly aclaimed by Dark Entries and Luminous Dash.
– Wülf7: A duo from Brussels bringing their noisy Industrial and melancholic sound to Antwerp. A must see!
– Causenation: playing in their hometown for the first time and who will bring you a bunch of their singles but also some new work.And last but not the least:
– Enzo Kreft:Underground cultlegend playing songs from "Control" which is a highly recommended album. Having his roots in the eighties Enzo promises to bring us a very moody and dark live performance that will sound surprisingly up-to-date.
"If you want a picture of the future, imagine a boot stamping on a human face, forever" Sure this will set the tone for his performance at the Wommel.
You do not want to miss this event!!!
At the PA: Mika Goedrijk (This morn' omina)
Afterparty with Dj Baxter and Dj PK bringing you the best wave and ebm dancetracks.
Doors open at 18h
First show at 20h
Afterparty at 24h till ….?
Tickets at the door: 10€