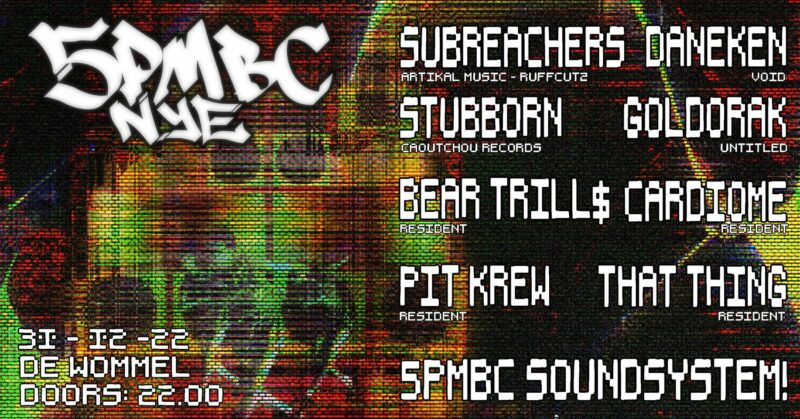 5PMBC NYE EXTRAVAGANZA
Gather round, ye olde backpack toting kids of the days of yore, ye young and exhilaratingly elated offspring of later generations. We have here compiled reasons to be optimistic, cheerful even, going into a new year whilst leaving the laughably diabolical mess that was 2022. It was above and beyond all else, high time that we would sit and think of a way to celebrate this grand and hopefully memorable feat.
Much to our surprise, a club night sprang to mind, somewhat immediately. "The club" here being a tiny squatty venue, perfect for our based, junglist shenanigans. "The night" to be filled with a bucket load of some of the best things our lively little scene has to offer round these parts.
Why you should join us during these most joyous times? First off, we'll be providing an endless barrage of sweet sweet bass & breaks through a phat sound system, ribcage rattling intentions wholeheartedly included. Secondly, we aim to bring together like minded souls, be they lost or just searching, for tremendous festivities built on high quality sounds – our focus lies not on draining you of all of your hard earned cash with a wry smile on our faces. That would not be very Robin Hood of us.

So come one, come all! Tell a friend to bring a friend. We're fully intended to make this night worth your while.
Line-up:
Subreachers

Stubborn

Goldorak

Daneken

Cardiome

That Thing

Bear Trill$

Pit Krew
Providing bass is our very own 5PMBC Soundsystem! !!!!!
CASH Preferred !!!!
We want our gigs to be a Safe Space for each and every individual. Homophobia, transphobia and xenophobia will not be tolerated. Sexism, racism or worse will result in your removal.